No single player in Battlefield 2042 🤔
Thursday, 17 June 2021
One of the interesting things to come out from the EA Battlefield 2042 trailer was the news that there will be no single player story assigned. This will be the first Battlefield game with no single player. The debate as to whether a single player mode is required in what is predominately a multiplayer experience can split the community, especially if the game did not reduce in price.
The lack of a single player is not a new concept for tentpole multiplayer games. Call of Duty Black Ops 4, which released in October 2018, did not have a single player story. How did that game fair compare to Call of Duty games thereafter (which included a single player mode)? The data below is for GSD tracked physical and network unit sales, over six territories, for each respective Call of Duty game in its year of release.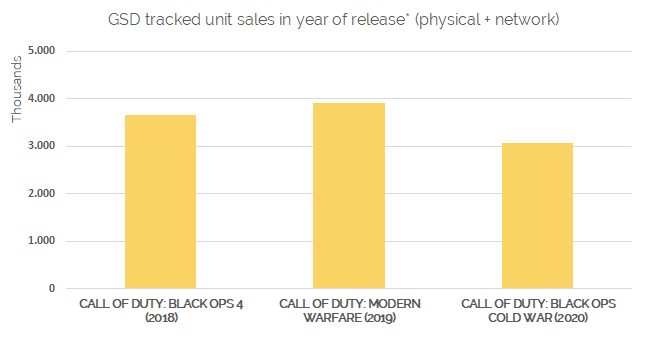 *6 territories: UK&I, France, Nordics, Iberia, Italy & Benelux

As you can see Call of Duty Black Ops 4 did almost as well as Call of Duty Modern Warfare and did better than Call of Duty Black Ops Cold War. There could be other mitigating circumstances as to why Call of Duty Black Ops 4 sold so well. It builds on the reputation of the previous Treyarch Black Ops games and the install base for the PS4 and the Xbox One was reaching its zenith.

The question than arises, if the single player mode did not disrupt an upturn in sales than why did Activision re-instigate the single player game for the two Call of Duty games since?

These types of games usually take three years to make, from conception to release. If the Black Ops 4 model of no single player were a resounding success, it would not be too bold to imagine that this year's Call of Duty: Vanguard, will also lack a single player mode. We will find out soon when more details come out later this year (Activision is skipping E3).

In the age of Call of Duty Warzone, battle royale games and free to play shooters, does the lack of single player in Battlefield 2042 mark the end of the single player campaign in first person shooters as we know it? I think not. Some gamers, often vocal on the Internet, will always cry out for story driven games. One only must see the success single player action-adventure games have become, especially the first party games from Sony. Gamers will also gravitate to the next first person shooter single player game like Bioshock, Doom, Metro, Halo or Dishonored game. The market is big enough to cater for everyone, but I am also adamant the single player mode will come back to Call of Duty and Battlefield because people always love a good story.