Today streaming is crucial for game discovery, understanding gamers and how that can translate into sales
Thursday, 24 February 2022
Streaming is the key to discovery
The dynamics of game discovery and consumption in the video game market is constantly changing. Relevancy and game discoverability has become just as critical for game producers as the quality of the game itself.
The release of the number of video games in the last ten years has become extensive. Currently Steam boasts over 50,000 titles and there are almost 1,000 new titles released every year on the PlayStation and Xbox consoles alone. Gamers are literally flooded with new content daily, so discoverability is now one of the major concerns from content makers.
The very nature of game discovery has had to keep up with the times, over and above traditional methods such as advertising, word of mouth or demos. Today, it is all about streaming videos.
One of the major business requirements from game producers is the need for up-to-date data on which games are being watched on the various streaming channels: Twitch, YouTube Gaming, Facebook Gaming, Trovo and so on. The relevancy of these channels for content makers is so that their games can get discovered. This is because there is a strong correlation between video content viewed and games bought. In the newsletter TheGameDiscoverCo, dedicated to helping indie game makers get their games discovered on Steam, it has repeatedly found that the number one factor in driving discoverability is streaming. It is crucial for games to get aired and watched, the more popular the streamer, the better. The content streamed can either take the form of Esports, a single game, or a wide variety of gameplay. The common element is that the streamers make it fun and enjoyable to watch for their audience.
Streaming shines a light on gaming demographics and revenue potential
Every year the value in gaining insight in streaming video game content is getting larger. In the 2020 version of the UK Government's Ofcom regulator report, the regulator found that gamers on YouTube were watched by a solid 30% of UK 13-17 year olds in April 2020. One in every five UK children aged 3-17 years old watched Esport videos between April and May 2020. Only humourous videos and music videos garnered more young eyeballs.

For streamers all these video game content can translate into financial rewards attained from a mix of subscriptions, sponsors from Esport companies, advertising revenue and even donations. According to PC Gamer, the top 10 Twitch earners expected to comfortably make in excess of $1 million a year. A quick Wikipedia search for the top streamers reveals some startling numbers. Ninja, a streamer specialized in streaming games for children has over 17 million followers. Over 25 streamers (including Rubious, shroud and xQcOW) have over 5 million followers. In January the BBC ran a news article on YouTube's rich list and found that two video game streamers, Markiplier and Unspeakable earned more money in 2021 that Ryan Kaji who became famous worldwide from his Ryan's Toy Review channel.
Today, YouTube Gaming and Twitch are in a bidding war to gain exclusive rights to some of the most popular streamers.
For example, DrLupo, TimTheTatman and Valkyrae all left Twitch for YouTube Gaming after signing new contracts with Google. Streaming is big business..

The importance of "influencers" is very much evident in the changing landscape of digital advertising. According to a Forbes article called "The Importance of Influencer Marketing In The New Normal Digital Sphere", it found the conversion from clicks on paid advertising averaged to 0.47%, namely that "99.53% of impressions on digital advertising fail to inspire consumers to click and take action". Today, its all about streamers and video bloggers pushing brands and showcasing product, within their live streams.
For game publishers, with live-streamed gameplay comes the added advantage of free advertising for their games despite the thorny issue of copyright violation such as what constitutes "fair use" and profiteering.
Nevertheless, game publishers have benefitted from increased awareness of their games, helping to propel the purchase of modest independent games like Rocket League and Fall Guys, which was superseded by Among Us. Even retro games have found a market on the streaming platforms such as Super Mario 64 which benefitted from the streaming format by utilising playthrough against a timer.
For many publishers the real focus comes from uptake of multiplayer and live service games. Multiplayer communities live or die with the interest of the community they serve. Getting the latest multiplayer game streamed among the top streamers can make a game, streamers can tap into the zeitgeist and can even set trends. This was witnessed with the meteoric rise in the popularity for the game Among Us. The game launched in 2018 with an average Twitch viewership of several hundred. In the summer of 2020 streamers xQc and sodapoppin started to play it on their channels and awareness for the game exploded. The game's Twitch viewership skyrocketed to just under 600,000 views. As a consequence, sales for the game boomed on Steam and the PlayStation, resulting with the game attaining household name status.
An Audience worth knowing and why Audiences matters
Over 50% of 1,000 surveyed UK adults aged 18-54 years reported that viewing a game "significantly impacts" their buying decision of that game. This important finding from research conducted in early 2020 from OC&C Strategy Consultants, a team of global strategy consultants, in partnership with Google, provides a powerful incentive for game publishers and developers to understand their current audience better and to work out how to engage with them.
The research revealed other interesting findings. A third of viewers were female, two-thirds over 25 years old, and a surprising 37% of viewers didn't play video games.
This poses the question, why and what were they watching? Most respondents watched on-demand content such as reviews and gameplay, but more importantly those who watched live streaming content was growing at a rapid pace. This trend of watching live gameplay online is becoming as natural to young people as watching live TV was for older generations.
Demographics and types of content are just two examples of how leveraging data analytics can help formulate a customer segmentation model that enable effective content strategies for different and newer audiences.
Understanding the motivations of viewers is critical for engagement. The research expectedly found many viewers wanted to improve knowledge and skill to help with their own gameplay. But the other key reasons seem to coalesce around a social theme. To be entertained, feel a connection with like-minded people and a desire to understand a streamer as a person is a clue why so many non-gamers are also watching this type of content. They choose to be "emotionally invested in streamers who build communities authentically." For a publisher the key is to turn all that interest and passion into conversion to pay for content.
It is fitting that as more games are designed for open worlds, successful marketers will also need to go beyond a launch and update approach of games towards an ongoing engagement with viewers.
Whether publishers and developers choose to give early access of their games to streamers, co-produce content with streamers or reward viewers with special in-game loot, continuous tweaking of engagement activity will help to maximize the lifetime value of an audience in this golden age of live streaming.
Audiences by Sparkers
Sparkers, in association with ISFE (Interactive Software Federation of Europe), has tapped into the streaming market with an exciting new analytical tool coined Audiences. Unlike other tracking tools in the streaming field, Audiences has successfully bridged the gap between streaming viewership and consumer sell-through of games.
Audiences runs on the same platform that drives Games Sales Data (GSD), which is real sell-through data for both the physical market sold at retail and the digital download market sold via the PlayStation Network, Xbox Live, Nintendo eShop and Steam platforms.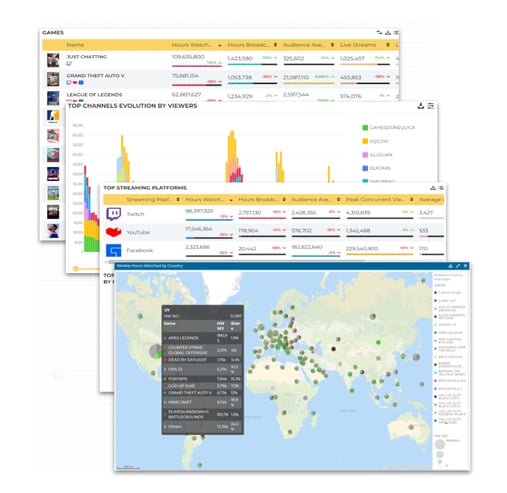 Audiences generates streaming data KPIs from all the major video game streaming services and combines that data with actual unit (and value) sales for those games which are sold at retail and among those publishers who are ISFE digital data partners. Audiences can provide concrete insight into the correlation between streaming video content and actual real data consumer sales.
For example, using the tool, it was found that in January 2022, 3 billion hours were watched from 89 million hours of broadcast from 6.5 million channels with 42 thousand games streamed live. This data can then be broken down into daily, hourly, or even by the minute analysis. The data categories include influencer channels, PEGI age classifications of the game, publishers, developer, game genre, franchise, broadcast language and country of broadcast. Where sell through data is available for a streamed game, that becomes accessible at the touch of a button.

If you are interested in knowing more about Audiences and how it can help your business in video games, please contact us at info@sparkers.com or visit us at GDC on 21-25 March 2022.